Coffee is our favorite beverage. It is difficult to compromise.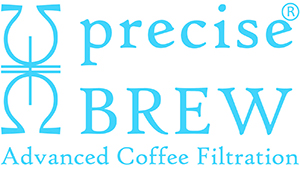 For this reason, we were led to create a quality filter
A filter that combines precision in the size of free area
the use of up to 1000 repetitions
the ecology
user-friendly
gentle with the aromas of coffee
100% recyclable
The filter is available in 4 groups with dimensions of openings to support every device and extraction method
20um: contribute to greater acidity (more acids)
25um: enriches the body (more oils)
Impulse: balances the intensity of its acidity and its texture
Cold Brew Booster (Speed up the cold extraction process)
What is a ``micron``
One micron is equal to one millionth of a meter 1 .10-6 = 0.000001 meters.
In different wording it is equivalent to one millimeter of a millimeter.
What we mean Accuracy! & STABILITY
Compared to non-woven, the precise weave of Precise Brew, aims to ensure the same thickness along the entire length of each fiber and then be woven very carefully to provide a fabric with perfect symmetry. 
The process of making a durable fiber so thin is a detailed process.
With specialized equipment, ensure the same thickness throughout the length of the fiber which is woven with absolute consistency to provide a superior quality fabric symmetry and strength.
The result is capable of reversing a lot from what we knew so far for coffee extraction
PRECISE BREW® FILTER applications & options
The filter is available in different aperture dimensions to support each extraction device and Brew method
Devices that are compatible with the filters
Hario V60 No2
Tiamo No2
Origami No2
Hario V60 No1
Tiamo No1
Origami No1
Chemex 6 cups
Clever Dripper
Bonavita Press
Melitta
Moccamaster
Melitta
Gina Smart/Basic
Aeropress
Delter Coffee Press
Cold Brew Systems
Filter Coffee Machines
Batch Brewer